The Outback Lounger is the latest addition to our "Hanging in Comfort" series. This chair has been the craze this year at home shows across the nation. Get in touch with your light side and take a seat in lofty luxury. Slowdown as you relax from the ground up in this fabulous piece of floating furniture. Rest assured, no place is safe from the portable tranquility offered by the Outback Lounger. Put your feet up on Outback Lounger's included footrest under a convenient overhang, in your favorite room, or underneath your favorite tree. The Outback Lounger combines 2 layers of top quality UV-treated waterproof 600 x 600 denier polyester fabric and a magnificent varnished Indonesian Hardwood frame. Best of all, this product is fully gravity resistant.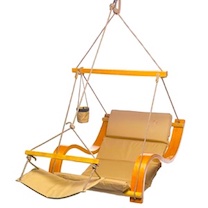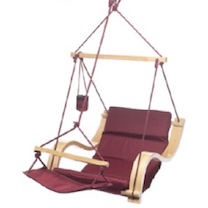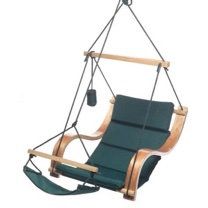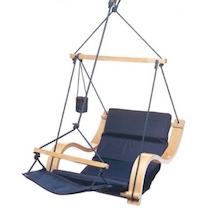 Download Installation Instructions Here
Specs & Dimensions:
UV-treated, waterproof 600 x 600 denier polyester fabric.
1 1/2" thick, 50" long, 24" wide closed cell foam seat cushion.
10" x 23" long fabric footrest.
3/8" 2000 lbs test poly cord roping.
Arms 1 1/2" x 1 1/2" x 31 1/2" overhead spreader bar.
Wood is laminated steam-bent Indonesian hardwood.
weight: 27 lbs.
weight capacity: 350lbs.
Shipping: 44"X16"X10" 28 lbs.
Installed: 30" wide, by 40" deep, plus footrest
(footrest dimensions approximately add length of mid thigh to toe)
Warranty:
The Outback Lounger has a 2-year limited warranty.

Click Here for Lounger Hanging Instructions



Included Magazine Holder
The Outback Lounger in 4 colors
Includes: Chair, footrest, magazine holder, cupholder and hanging hardware.
Hardware Included:
• 4 x 3" hex head bolts with nuts and washers
• 1 x 3 1/2" long and 1/4" thick closed-end s-hook
• 1 x 4 1/2" long 1/4" thick closed-end eye lag
1 to 5 day delivery Coast to Coast